Series 65 Exam – Uniform Investment Adviser Law
Series 65 Exam – What is it?
The Series 65 exam, which is formally known as the Uniform Investment Adviser Law Exam, is an entry-level exam that when passed, allows an individual to be registered and licensed as an Investment Adviser Representative (IAR). The exam is very broad and presents questions covering content necessary to provide investment advice to clients.
It is a North American Securities Administrators Association (NASAA) exam, and is administered by the Financial Industry Regulatory Authority (FINRA).
Read on to learn more about this difficult exam:
Do you need to pass the Series 65 Exam? Saying this exam is hard is an understatement. Luckily, our instructor Suzy Rhoades has been specializing in teaching people with no background how to pass this daunting exam.
Have you already taken a course and failed the Series 65? If so, we are sorry to hear that. In her video-based S65 exam prep course, Suzy provides over 20 hours of lecture on-demand video.
In addition to over 20 hours of lecture videos, Suzy's S65 prep course also includes over, 2,300 practice exam questions with written and audio explanations.
What does the Series 65 exam cover?
The exam has four areas of concentration and they are:
Economic factors and business information
Investment vehicle characteristics
Client investment recommendations and strategies
Laws, regulations, and guidelines on unethical business practices
Click below to view the exam outline:
"I did it! I actually passed. I don't think I could have done it without you. Thank you, thank you. That was an extremely difficult test. Your program was a life saver!
Thanks again for getting me through it! Understanding the concepts is incredibly important. – THANKS!"
Text is boring. Check out Suzy as she explains more about this exam and how you can increase your chance of passing it on your first attempt.
Exam Vitals:
There is no corequisite license
130 test questions
Multiple-choice format
3-hour time limit
92 out of 130 questions correct in order to pass
$187 cost of the exam
"Having the PDF files in conjunction with the videos was perfect. It helped me to learn the content of the material and understand it much better than just reading a book that I had purchased with a different provider before. This was not easy material for me but with your help, I was able to pass the test. I would recommend it to anybody. Thank you for this great concept of teaching online!"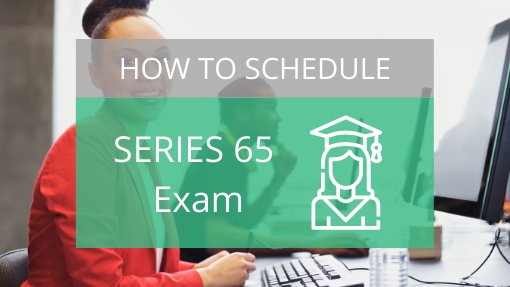 How do you schedule the Series 65 exam?
Unlike most FINRA licensing exams, you do not need to be sponsored by a member firm to take the exam. If you are not affiliated with a firm through FINRA's Web CRD system, or Form U4 registered, you will use Form U10 to register and pay for the exam. Usually the exam fee is covered by a sponsoring firm, if the applicant is U4 registered, or by the individual applicant, if they are not sponsored.
Series 65 Exam Questions Explained
Each week on Wednesday we post a new Question of the Week video on our YouTube page. Check out this QOTW video in which Suzy explains 10 practice questions. Visit our YouTube page, follow and turn notifications ON to view future QOTW videos when posted.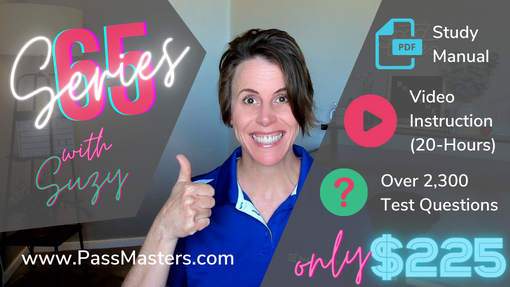 Series 65 Exam Prep Course with Suzy Rhoades
Of course, if you are really serious about passing this exam we have a course for you. Join Suzy as she teaches you everything you need to know to pass this difficult exam. Suzy crafted a precise course aimed at those with no background in the securities industry. Want to know more about this course? Click the link below: