Securities Industry Essentials Exam – How to Pass
First off, just what is the Securities Industry Essentials (SIE) exam?
The Securities Industry Essentials (SIE) exam is a securities licensing exam which has been developed by the Financial Industry Regulatory Authority, also known as FINRA. It is the first step someone usually takes when beginning their career in the Securities Industry. It is an entry-level exam that evaluates an individual's knowledge of basic concepts which are fundamental to working in the industry.
Who can take the Securities Industry Essentials (SIE) Exam?
Unlike most other securities licensing exams, an individual can take the SIE exam without being affiliated with or sponsored by a broker/dealer firm. To learn more about scheduling the SIE exam click here.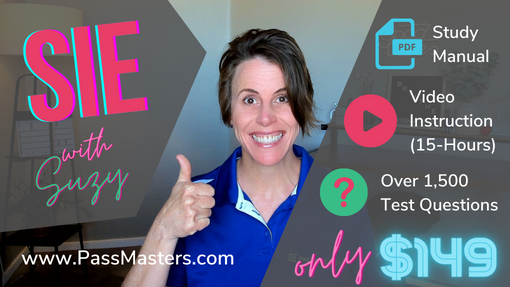 How many questions are on the Securities Industry Essentials (SIE) exam?
The Securities Industry Essentials exam only has 75 questions. The questions on the exam were developed by FINRA based upon the SIE outline they publish. If you are planning on taking this exam, you should really review the exam outline so you know exactly what content the SIE exam questions are based upon. You can do so here.
The exam has a 1-hour and 45-minute time limit with a 70% minimum passing score. The exam is multiple-choice and is administered on a computer and compiled for each individual applicant on the spot. It is said there are thousands of test questions in the data bank which is pulled to compile each exam. For this reason, no two SIE tests are the same.
How do I study to pass the Securities Industry Essentials (SIE) exam?
That's the easy part! Our securities exam prep director Suzy Rhoades has created an all-in-one study solution for those who are looking to pass this difficult exam. No matter how you learn, our SIE test prep course has it all including a pdf study manual (sample here), over 15-hours of video lecture sessions (sample below), key fact video reviews (sample below), and practice/final exams (over 1,500 total). Click here to take a free sample SIE exam.
You can get all this and 90 days of unlimited course access for only $149. Need more time to study. No problem! You can purchase additional 90-day course access periods for only $49.
How do you know what to study and when?
It would be silly to offer a Securities Industry Essentials exam prep course without providing a road map on exactly how to use it. Sign up to study for your SIE exam with us and you will know exactly what to study each day using our four-week study plan. Want to complete your studies in a shorter period? No problem, just complete more assignments each day. Know what to do and when, to make sure you are ready to pass your SIE exam on your first attempt.
This exam is tough. Study with us and be ready to pass, just like Mark was below. We post testimonials from our students daily. You can view more here.
"I passed on my SIE exam on my first try!! If I didn't have all the help from Suzy and her trick questions, I don't know how I would have made it!"
What happens if I fail the Securities Industry Essentials (SIE) exam?
If you fail this exam, you must wait 30 days and pay another testing fee ($80) to retake it. This is true if you fail it a second time. Fail the Securities Industry Essentials exam a third time and you must wait for a full 180-days and pay another testing fee. This is why taking a top-notch SIE exam prep course is so important. Save time and money with our course. Click here to learn more.
Did you already pass the Securities Industry Essentials exam?
If you have already passed the SIE Exam and are looking for excellent top-off securities exam prep courses, we can help. To learn more about the test prep courses we have available for other securities exams, click the links below:
Series 6 Top-Off Exam Prep Course
Looking for FREE FINRA SIE Practice exam questions?
You got it! Click here for 10 free FINRA SIE practice exam questions explained in pdf format. You can also check out our FREE questions of the week series on YouTube, where Suzy presents sample SIE test questions directly from our course. See samples below: