Insurance
What is insurance and how is it used?
Insurance is legally defined as the transfer of pure risk to the insurance company in return for the premium paid.  So, what do these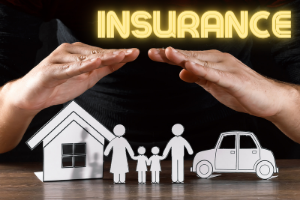 terms mean?  Well, a risk is defined as the chance (or uncertainty) of loss and is what causes people to purchase insurance.  If we lived forever would there be any need for life insurance?
There are two main sub-categories of risk you need to know for your insurance license exam and they are as follows:
1 – Pure risk, which is defined as the chance of loss only, with no chance for gain.  Pure risks are insurable.  Click here to learn more about pure risk.
2 – Speculative risk, is a risk situation that presents an opportunity for gain, as well as an opportunity for loss.  Examples of speculative risks are gambling and investing in the stock market.  Speculative risks are NOT insurable.
Can an individual purchase insurance for profit?
No!  Most types of insurance follow the principle of indemnity, which states insurance is there to return the insured (owner of the policy) to the position they enjoyed prior to their loss.  Sometimes it is said your insurance is there to make you whole again after a financial loss.
Most insurance policies will pay the loss suffered or the policy limit, whichever of the two is less.  To learn more about the principle of indemnity click here.
Are there any other options to manage pure risk, other than buying insurance?
Yes, there certainly are.  Once you determine a pure risk is present, such as being involved in an at-fault auto accident, the individual can manage this risk in a number of different ways.  They could transfer their risk to the insurance company by buying insurance.  They could avoid or eliminate the risk by selling their car and buying a bike, or they could reduce their risk by taking a defensive driving course.
Of course, most states require an individual operating a motor vehicle to carry liability insurance, which pays to others should the insured be negligent (at-fault) and cause bodily injury (BI), or property damage (PD) to others.
What types of insurance are available?
Insurance is generally categorized into four product lines as follows:
1 – Life Insurance – This includes all types of life insurance, which is really death insurance, since it pays a benefit when an insured dies, including annuities.
2 – Health Insurance – There are many kinds of health insurance.  What people usually think of when thinking of health insurance actually known as medical expense.  Medical expense insurance pays out for doctors and hospital expenses and is one type of health insurance.  However, there are other types of health insurance such as disability income and long-term care.  Health insurance is also sometimes referred to as disability insurance.
3 – Property Insurance – This category is sometimes referred to as fire insurance.  It includes policies such as the Dwelling and Homeowners, but also includes commercial lines property policies.
4 – Casualty Insurance – This is a catch-all category that groups together policies that don't really fit in anywhere else, such as auto insurance and Workers' Compensation.
Do you need to be licensed to sell insurance?
You better believe it.  Insurance is primarily regulated at the state level by the state Department or Division of insurance.  Each state sets its own licensing requirements.  Some states require an applicant to complete a pre-license course prior to taking their licensing exam, and some don't.  Regardless of what state you are in, we have some excellent learning resources you can use to obtain an understanding of the unlying content that will be covered on the licensing exam.
What else can help me prepare to pass my insurance licensing exam on my first attempt?
Other tips to help you pass your insurance licensing exam on your first attempt:
Insurance Exam Test Taking Tips
Also, check out our definition and question of the day videos on our YouTube channel: