Series 6 Exam – What is it?
Series 6 Exam – What is it?
Well, first off, the Series 6 Exam is a securities licensing exam and actually goes by a few different names. Its formal name is the Investment Company and Variable Contracts Products Representative Exam, but it is most commonly referred to as the Series 6 exam or Series 6 top-off exam.
Who created this exam?
The Investment Company and Variable Contracts Products Representative Exam was created and is administered by FINRA, which is the Financial Industry Regulatory Authority. FINRA is a self-regulatory organization that oversees the securities industry. The exam was created to assess the competency of an entry-level representative to perform their job. You can learn more about this exam on the FINRA website here.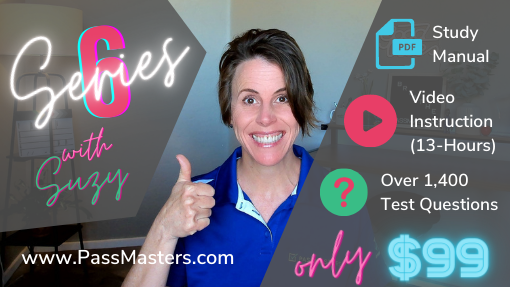 Learn more about this exam from Suzy
Suzy is our Director of Securities Exam prep. She has over 20 years of experience teaching people just like you how to pass their securities licensing exams on their first attempt. Below Suzy will guide you through an overview of this exam and share with you a great study solution you can use to PASS.
Once I pass this test can I sell securities?
Well, that depends. Have you already taken and passed the SIE exam? The SIE exam, which is also known as the Securities Industry Essentials exam is a co-requisite license with the Series 6. This means you can't do anything with just one of the two licenses. Usually, most people start with the SIE Exam, since no broker/dealer sponsorship is required to sit for it. Once they have passed the SIE exam, then an applicant will either take the Series 6 or Series 7 top-off exams. You can learn more about the SIE exam in our article about it here.
What are the vitals for the Series 6 Exam?
This exam is made up of 50 multiple-choice questions. Each question consists of four answer choices. The exam has a 1 hour and 30-minute time limit and has a 70% minimum passing score. The questions on the exam come from four sections of information as follows:
Seeks Business for the Broker-dealer from Customers and Potential Customers –

 

24%

 

of exam –

 

12 questions
Opens Accounts After Obtaining and Evaluating Customers' Financial Profile and Investment Objectives – 16% of exam – 8 questions
Provides Customers with Information About Investments, Makes Recommendations, Transfers Assets and MaintainsApproperiate Records – 50% of exam – 25 questions
Obtains and Verifies Customers' Purchase and Sales Instructions; Processes, Completes and Confirms Transactions – 10% of exam – 5 questions
You can access the full Series 6 license exam outline here.
"I just want you to know that I took the Series 6 exam today and passed. You have a really great product and I have already passed your website to our Agency Field Executive who oversees all the agents in Vermont. Thank you for a great product, fantastic customer service, and a reasonable price!!"
What is the difference between the S6 and S7 exams?
In general, if someone is going to become a stockbroker, they would take the Series 7 exam and become licensed to sell a broad range of securities products. However, if someone is an insurance agent and looking to become licensed to sell variable insurance products, they would obtain a Series 6 license. Regardless of the route an individual goes, they must also pass the SIE exam in addition to either the Series 6 or 7 top-off exam.
How do I study to pass the exam?
Here at PassMasters, we have an excellent video lecture-based online Series 6 test prep course. We can teach you everything you need to know to pass this exam on your first attempt. Or, maybe you studied another course and failed. Our specialty is assisting those who have taken this test and failed, to prepare to pass the exam once and for all. To learn more click this link: Series 6 Exam Prep
How do you know our Series 6 study material is the best? Check out two full-length sample lecture videos from the course below. You can also take a FREE Series 6 practice exam to see exactly how our practice/final exams are formatted. Of course, you can also check out our Series 6 Exam student testimonials. Feedback from real people who are passing the SIE test.
Series 6 Questions Explained
Each week on Wednesday we post a new Question of the Week video on our YouTube page. Check out this QOTW video in which Suzy explains 10 exam questions. Visit our YouTube page, follow and turn notifications ON to view future QOTW videos when posted. Thanks for checking out our site. We hope this article provided you with some additional clarification about the Series 6 exam. Good luck with your test!