Over 1,000 Real Estate Practice Questions
How many real estate practice questions are included in your course?
Our course includes over 1,000 real estate exam prep practice questions with detailed written and audio explanations.
Take a FREE 20 question sample exam to see why our real estate exam questions and exam delivery system are the best.  20 FREE real estate exam prep questions.
Don't want to take a FREE exam?  That's okay.  You can quickly learn exactly how our exam simulation program works by watching this short video:
What is an audio explanation?
Each one of our practice questions includes an mp3 file you can listen to immediately after answering the question. This mp3 file is an instructor walking you through the entire question. In all, our course includes over 15-hours of audio explanations.  You won't find any other real estate school that offers this feature in their course.
Where do you come up with your questions?
For one thing, all of our questions are authored by our real estate exam prep instructors, based on the information provided in the real estate licensing exam outlines.  All our questions are based upon exam outline content topics which have been seen on the exam recently.
Will I get the same questions over and over again?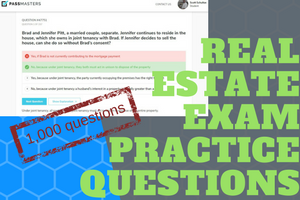 No, our system is set up to ensure this doesn't happen.  Our exam simulator has eleven section exams.  Each review exam includes 20 questions which are delivered from our question bank that includes over 1,000 questions.  Each time you launch an exam, our system will randomize not only the questions provided but the order in which the answers appear.
Will my progress be saved if I have to exit an exam during the exam?
Yes, our system will store your location within an exam and relaunch you into the real estate exam exactly where you left off when you pick up your studies at a later date.
How long will I be able to access the course?
You will have 60 days of unlimited access to the course which begins immediately the day you sign up.  However, if you need additional time, a course extension can be purchased for only $25.
Are your real estate exam prep practice questions mobile compatible?
Yes, you can complete our practice questions on a PC, tablet or a mobile phone.
Will my scores be recorded?
Of course!  It will be vital for you to keep track of your progress.  For this reason, our system will keep track of every exam you complete and store your score for you directly in your student account.
Are there explanations provided for each real estate exam test question?
Yes!  You not only need to be able to understand why the correct answer is correct, but you also must understand why each incorrect answer is incorrect.  For this reason, we provide detailed exam question explanations.
Are your questions general or state law specific?
Currently, our real estate exam question databank is only for the general portion of the exam.  There are no state-specific real estate regulation questions provided in our course.
Do I have to take all the exams in the course, or can I pick and choose?
Maybe you only want to take our simulated 80 question final exam.  Well, that's fine.  However, we do recommend you take all the exams within the course and score a minimum of 90% before taking your licensing exam.
Is there any other way to see what your questions are like before signing up for your course?
Yup, you should check out our Question of the Day series posted on our YouTube page.  In particular, all the questions presented in our Question of the Day series come from our 1,000 question databank.
Want some FREE tips to make sure you pass your real estate licensing exam on your first attempt:
Check them out here.