Texas Life and Health Insurance Exam Prep
Scott Schultze, the PassMasters Director of Insurance content, has created the best all-in-one online Texas Life and Health insurance exam prep course. If you are beginning your journey to prepare to pass the TX General Lines Life, Accident & Health test, or have already unsuccessfully taken the exam, our TX L&H exam prep course will give you everything you need to PASS this difficult exam. Read on to learn more about the course that is helping people all across Texas ace their exams and get licensed.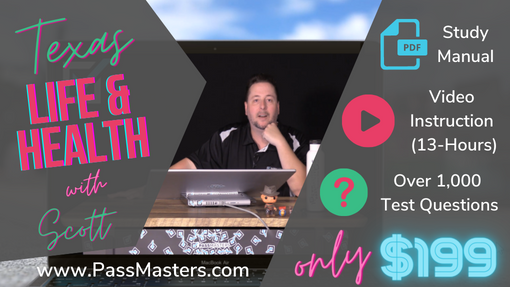 In our TX L&H insurance course, the material is broken down into sections that correspond with the content outline as published by Pearson VUE, which is the testing vendor contracted by the Texas DOI to create and administer the insurance licensing exams. Each section consists of four parts: a pdf to read, lecture videos to watch, key facts videos to review, and a quiz to practice! You will get everything you need to PASS the Texas Life and Health exam for only $199 for 90 days of unlimited access. If you need additional time to study, that is no problem, additional 90-day access periods can be purchased for only $49.
Scott's Online Video Texas Life and Health Insurance Exam Prep Course Features Include:
Study Plan
Start your studies now, and complete them in exactly 14-days, with our detailed TX L&H course Study Plan. Know exactly what to study each day.
PDF Study Manual
Begin each section with a PDF which we recommend you print out and read before watching the related online video lecture sessions.
Video Lecture 13-Hours
In these videos, Scott will teach everything covered in the related PDF section. For easy digestion, each video is no longer than 30 minutes.
Key Fact Section Video Review
At the end of each section focus on the most highly testable concepts with a key facts video.
Section Quiz
Take a targeted section quiz after each video to make sure you comprehend the concepts that were just presented.
Final Exam
Complete your studies with a final exam that is weighted exactly like the real exam. Pass this and you are ready for the real exam.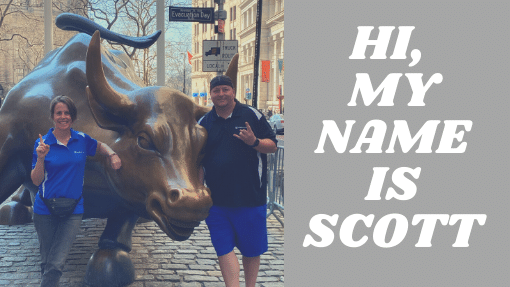 About our Insurance Instructor:
Hi, my name is Scott Schultze. I was born in Portland, OR, but grew up in Scottsdale, AZ. I now reside in Paradise Valley, AZ with my wife of 22 years Dawn, son Ryder and daughter Kalli. When I was in college I was fortunate enough to be given an opportunity to join the family business. Shortly after doing so, I realized how much more I was learning while working than in school so I dropped out. That family business was the Phoenix Insurance and Securities School.
The first thing I had to do was take classes and get insurance and securities licensed. So I know exactly what you are about to go through. In 2006 I founded an online insurance and securities exam prep and continuing education company called TesTeachers. In 2016 it was sold to a private equity group and combined with another entity. After a long contractual absence, I am now back to do one thing, and that is to help you pass your exam on your first attempt. I have now been teaching insurance and securities licensing test prep classes for over 20+ years. Let's join forces and get you your insurance license, shall we?
Recent Texas Life & Health Student Testimonials:
"I just took my Life and Health test and passed. I really enjoyed the class!!! Thanks, Scott…I will be ordering the securities material next. I recommend anyone to order any of the available courses to prepare for your test. I GUARANTEE YOU WILL PASS…It's just that easy."
"I have been meaning to write. I took my Life and Health last Thursday and passed. I'm told that only about 40% pass this exam at the center in Austin. I'm also told that many come out saying they never heard of the information tested.
I benefited from your course because of the videos, and practice exams. Thank you so much for a well-prepared course."
"I took my test this morning and I passed! I am so grateful for this site and the knowledge I was able to go into the test with. There were quite a few questions on my test that were almost exactly the same as on the practice exams. I got in there feeling a little nervous, but a couple of questions into it, I was confident because of all I had learned. Thanks so much!!! "
Texas Life & Health Insurance Prelicense Exam Prep Course FAQ's:
What is the cost of the course?
The course tuition is $199. This provides you immediate access to the entire course for an initial access period of 90 days. The initial access period begins on the date of course purchase. Need more time to study? No problem. You can extend your course access for an additional 90 day period once your course access expires for a fee of $49.00.
What makes your TX L&H course different than others?
Simple. Our course was designed and is presented by an expert, with over 20 years of experience, who actually cares if you pass. Our course was created based on the exam outline, with no additional fluff. If you don't need to know it for the exam, we don't cover it.
We know who the big names are in insurance pre-license training. Who wrote their course? Who presents it? Can you easily find that out? Do they ever update their course? Do they cover concepts you don't even need to know? Do they care if you pass? Here at PassMasters, we do!
Who created the course?
Our Texas Life & Health exam prep course was created and is entirely presented by Scott Schultze, who is our Director of Insurance Content. Previously, Scott served as the Founder and CEO of TesTeachers, which was a national leader in insurance and securities pre-license and continuing education training.
Does this course provide me everything I need to pass the exam
Yes, this course will provide you with everything you will need to pass the TX L&H exam the first time. It is an all-in-one study solution created to be the sole source of study for those preparing to pass the exam. You will not need to study anything else in addition to this course to prepare to pass the exam.
How often is the content updated?
Constantly! As the exams change, so do our questions. Our goal is to have our materials mirror the exam as much as possible. Remember, there is always a lag between new insurance regulations taking effect and being reflected on the exam.
Do I have to follow the 14-day study plan?
No, the 14-day study plan was created to be your road map to success. However, it doesn't have to be followed at all. Some students purchase our course just to watch the videos or take the practice/final exams.
You can study any or all parts of the course, and follow or not follow the study plan. It's up to you. You can also use the 14-day study plan to finish the course studies quicker or spread your studies out to a period longer than 14-days.
How many questions are included in the course?
There are over 1,000 practice/final exam questions included in the course. Each question in the course includes a detailed written and audio explanation.
Additionally, once each exam is completed you will be able to view a detailed score report. You will also be able to view your historical data related to each exam you complete, such as the number of times you have completed it, your score the first time you attempted it, your average score, your score the last time you completed it, and the percentage of question you have attempted from that exam's question bank.
Are the questions in your course exactly like the ones on the exam?
No, they are not. We try to cover the content as closely as we can to help you pass. Although the questions on your exam will be different, our material has been written to reflect what you will need to know to pass. We are dedicated to keeping up-to-date with the content on each insurance exam.
How many hours of video lecture does the course include?
There are over 13-hours of lecture videos included in this course. Each video is no longer than 30-minutes in total length, to be easily digestible. In each video, Scott presents the PDF Study Manual as he would in a live lecture class. Each video includes closed captioning and has a playback speed that you control.
I have taken the TX L&H exam and failed, will this course help?
YES! Over the past 20 years, Scott has helped many students who have taken an insurance exam and failed. Unfortunately, there is no shortcut or secret to passing this exam. That being said, if you have failed, this course will help you PASS. Many students who have found themselves in this position have taken this course and found success. If they can do it, YOU can too!
I have never heard of PassMasters. Who are you guys?
PassMasters is made up of a dymanic brother and sister duo (Scott & Suzy) who were responsible for creating TesTeachers way back in 2006. After training hundreds of thousands of individuals to pass their insurance and securities exams nationwide over a ten-year span TesTeachers was acquired by a private equity group in 2016. After a contractually required absence, Scott and Suzy are now back to help those in need who are having a hard time passing their licensing exam.
FREE Insurance Exam Prep Content
Check out a couple of videos from Scott's Insurance Test Prep Q&A Series on YouTube. In this series, Scott presents and explains various insurance concepts students generally have trouble with while studying for their exams. These videos will give you a feel for his teaching style. Subscribe to our YouTube page and turn notifications ON to be alerted as additional videos like these are posted.