Title Insurance
What is Title Insurance?
Title insurance is an indemnity contract issued by a title insurance company which provides coverage for any loss related to a defect in title to real estate or any liens or encumbrances. 
What does it cover?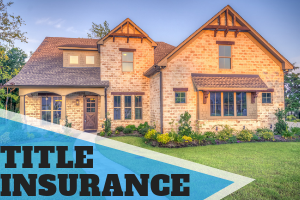 Generally, title insurance protects the insured (owner of policy) against losses arising from such title defects (hidden risks) as the following:
Confusion resulting from the similarity of names

Mistaken legal interpretation of wills

Undisclosed heirs; lack of capacity (minors)

Forged documents such as deeds, releases of dower, mortgages

Incorrectly given marital status; mental incompetence

Misfiled documents, unauthorized acknowledgments
How is title insurance different from other types of insurance?
Most forms of insurance, such as auto insurance, cover a future unforeseen event, should it occur.  However, title insurance covers something that has already happened but has yet to be uncovered.  Strange right?  You can't buy auto insurance today that will cover your car crash that occurred yesterday, but that is precisely how title insurance works.
Who pays for title insurance?
The buyer of a property pays the premium for the policy.  Here is another difference between title insurance and most other types of insurance policies.  It is purchased with one premium payment at the close of escrow.  Whereas most insurance premiums are paid monthly, title insurance is only paid for once, at the close of escrow.
How long is coverage provided under a title insurance policy?
Coverage is provided as long as the same owner holds title to the property.  In other words, the title insurance policy cannot be transferred to a new owner.  They must buy their own policy, which will cover them as long as they own the property (hold title).
Is there anything not covered under a title policy?
Yes, any known title defects are not covered.  So, how does a title insurance company determine if a title has any issues?  They perform a title search.  If there are any defects uncovered when the title search is completed, they will not be covered.  Additionally, certain things are never covered in the policy.  You can think of them as exclusions to coverage, such as zoning and governmental restrictions.
Who is covered under the policy?
It depends on the title insurance policy.  There are two policies available.  One is known as the owner's policy, and the other is known as the lender's policy.  If the owner of the property paid cash, there would be no lender policy issued.  However, usually, there are two forms issued with one covering the owner and one covering the lender.
What else can help me prepare to pass my real estate licensing exam on my first attempt?
Other tips to help you pass your real estate licensing exam on your first attempt:
How to Pass the Real Estate Exam
Real Estate Exam Math Made Easy
Also, check out our question of the day videos on our YouTube channel: