Real Estate Owned (REO)
What does the term Real Estate Owned (REO) mean?
Real estate owned or REO is a term often used by lenders to describe real property which is involuntarily acquired by them through foreclosure.  What is foreclosure?  Check out the term foreclosure defined here.
Once a property is acquired by a lender through foreclosure it is held in the bank's inventory.
Are there any synonymous terms for real estate owned?
Yes, the term real estate owned or REO is also sometimes referred to as other real estate (ORE) or other real estate owned (OREO).  This property is accounted for at the lender using an account that includes property other than real estate used for bank operations.
How does a lender end up selling an REO property?
Lenders often use brokers to sell their REO properties.
What are some real-life examples related to real estate owned properties?
Let's take a look at this term as it relates to a lender's balance sheet.  If a lender encounters a large number of recent mortgage foreclosures,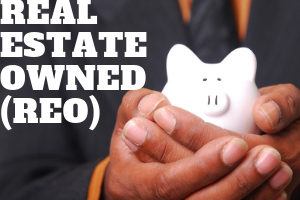 their real estate owned assets will grow.  Of course, they will need to identify which real estate assets are used for operations and which are related to their defaulted lending activity.  If a borrower defaults on a loan, the lender can obtain ownership to the property through foreclosure.  Of course, the lender doesn't really want the property, so they would secure a broker to assist them in selling it.  While the lender owns the property it is referred to as an REO.
Did you know there is actually a government agency that will take action if a lender's REO assets get too large?  The Office of Thrift Supervision (OTS) monitors real estate loans at lending institutions and places foreclosed real estate on the other real estate (ORE) list.  When ORE exceeds 2% of an institutions assets, the OTS takes steps to reduce losses and safeguard the institution.
What would a real estate test question related to real estate owned look like?
"Real estate owned" are properties owned by a bank which were acquired through a:
A. Short-sale
B. Foreclosure
C. Condemnation
D. Loan modification
Correct Answer:  B
Explanation:  Bank owned properties that were acquired through foreclosure are known as "real estate owned" properties.
What else can help me prepare to pass my real estate licensing exam on my first attempt?
Other tips to help you pass your real estate licensing exam on your first attempt:
How to Pass the Real Estate Exam
Real Estate Exam Math Made Simple
Also, check out our question of the day videos on our YouTube channel: