License
What is a license?
When one comes to mind, do you think of real estate?  Generally, no.  Most people think of a drivers license.  Alternatively, maybe one granted by an authority to engage in a business or occupation or an activity normally unlawful.  Doctors need one to practice, real estate agents and brokers need one to conduct business, and in some states, you can carry a concealed weapon with one.
So, what are we talking about here?
In this article, we will be talking about a temporary license granted by a property owner to another individual as permission or authority to do a particular act on their land.  They are non-exclusive in nature.
Why would someone use a temporary license instead of granting an easement?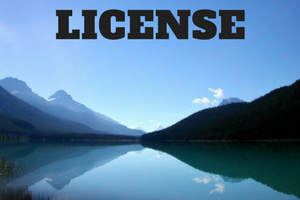 Well, remember, as we learned in our easement article easements are not temporary.  The licensee does not receive any permanent rights to use the land since the licensor can revoke a temporary license at any time.
Why would you issue a temporary license?
A landowner who has a lake on their land could issue one to a neighbor to fish on the lake.  They are revocable at any time, which is a great feature.  Additionally, it can't be assigned or sold to anyone else by the licensee, since it is a personal privilege granted only to the person whom it is given.
How would you go about terminating a license?
As we already mentioned, the person issuing the license (licensor) can revoke the license at any time.  Also, the death of either party, expiration, the sale of the land or by abandonment are all ways they face termination.
What else can help me prepare to pass my real estate licensing exam on my first attempt?
Other tips to help you pass your real estate licensing exam on your first attempt:
How to Pass the Real Estate Exam
Real Estate Exam Math Made Easy
Also, check out our question of the day videos on our YouTube channel:
PassMasters Real Estate Exam Prep YouTube Channel
Check out the related definition in our real estate dictionary: