Encroachments
What are encroachments?
Encroachments are an unauthorized intrusion into the real property of another.  These intrusions could be on the surface, in the air, or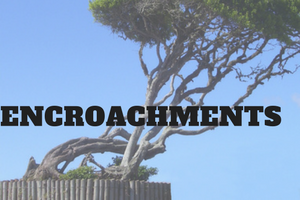 the subsurface space of the property.  Regardless of where the encroachment is, if it is not remedied it could have a negative impact on the value of the property.
Would an encumbrance include an encroachment?
An encumbrance is a claim, charge, or liability on real estate.  Yes, an encumbrance would include encroachments.  If not remedied, it could lead to a cloud on title.  A cloud on title is an encumbrance that might invalidate or impair the title to real property or make the title doubtful.  A title search would generally uncover any clouds on title that are present.  An individual could initiate a quitclaim deed or commencement of an action to quiet clouds on title.
What are some typical examples of an encroachment?
By mistake, your neighbor builds a fence two feet onto your property line.  Encroachments usually occur by mistake but could be intentional.  The most common type would be branches of a tree that enter the airspace of a property.  As you can see, remedying an encroachment could be pretty simple, or pretty complicated.
Property owners can uncover encroachments in what manner?
A survey is most commonly used to uncover any encroachments that may exist.  To discover potential encroachments, a buyer should obtain a survey as part of their due diligence.  Additionally, if a survey uncovers an undisclosed encroachment, a buyer can request the seller remedy the encroachment, reduce the selling price or pay for the survey.
How can an encroachment identified by a survey be remedied?
A property owner should be able to resolve an encroachment without involving the court.  The easiest way to remedy an encroachment is to remove it.  However, a landowner could grant a neighbor a license and sign an encroachment agreement to continue the encroachment, which seems strange.  Alternatively, a landowner being encroached upon could take the neighbor to court, and the court could order the offending neighbor to remove the encroachment or pay a fine to the neighbor.
Does title insurance cover encroachments?
Since a chain of title does not typically reveal encroachments a title insurance policy will not provide coverage.  Also, most standard title insurance policies do not insure against matters an accurate survey would show.  An extended-coverage title policy usually protects against encroachments.
What else can help me prepare to pass my real estate licensing exam on my first attempt?
Other tips to help you pass your real estate licensing exam on your first attempt:
How to Pass the Real Estate Exam
Real Estate Exam Math Made Easy
Also, check out our question of the day videos on our YouTube channel: