Bundle of Rights
What is the bundle of rights?
The bundle of rights or bundle of rights theory is a concept that has long been associated with real estate ownership.  It is a concept describing all the legal rights that attach to the ownership of real property.  They include the right to lease, sell, use, encumber, exclude, enjoy and devise by will.  The bundle of rights includes many other rights. However, ownership rights are limited as the owner is subject to certain government powers.
Is there an easy way to understand the bundle of rights?
There is.  Usually, individual sticks grouped into a bundle help students visualize how a property owner holds each right.  As the buyer of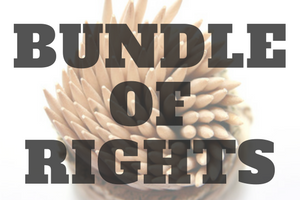 real property, you are buying these rights from the seller.  The sale would include reserved or limited rights.  As the owner of the real property, you have the right to choose to sell or give away any of these rights, while retaining the rest.
"DEEPC" is a great acronym you can use to help you remember the main rights contained in the bundle of rights.  Such as:
Disposition, which is the right to sell or give the property to another.
Enjoyment, which is the right to possess the property without outside interference.
Exclusion, which is the right to keep others from using the property.
Possession, which is the right to occupy the property.
Control, which is the right to legally use the property by the owner how they see fit.
Why would this be important to a buyer?
In a real estate transaction, knowing what one has or is acquiring is vital, because some of the bundle of rights may be missing.
What else can help me prepare to pass my real estate licensing exam on my first attempt?
Other tips to help you pass your real estate licensing exam on your first attempt:
How to Pass the Real Estate Exam
Real Estate Exam Math Made Easy
Also, check out our question of the day videos on our YouTube channel: