Property Inspection Process
What is a Property Inspection?
A property inspection is a visit to and review of a particular premise.  A purchaser should always inspect the property before closing as part of their due diligence.   A property inspection is also referred to as a home inspection.
Because possession of property gives constructive notice of any claims of ownership, an inspection is an essential step in discovering any possible claims by others.  An inspection might also reveal any encroachments or unrecorded easements.  It is good practice for a broker to inspect the listed premised to ascertain that his or her representations to prospective buyers are accurate.
Who completes the inspection?
A professional inspection company usually completes the property inspection.
What is the inspector looking for when completing an inspection?
When completing a property inspection, the inspector is looking for structural, electrical, or plumbing defects.
Who pays for the cost of a property inspection?
Usually, the cost of the inspection is paid for by the buyer, but in cases where the inspection is required by a municipality for building, and/or termite, soil and septic system tests the seller will pay the cost.
In what situation is a property inspection necessary?
Property inspections are usually required in the following situations:
Sale requirements as to property conditions, such as wood-destroying insects or structural soundness.
Compliance with building codes.
What is an inspection clause?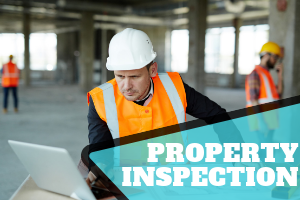 In a contract to buy or sell real estate, an inspection clause or contingency allows the buyer (or a qualified party) to inspect the property.  If such a provision is inserted in the contract when the transaction is to be closed in escrow, the escrow company will not close until it has received an inspection approval letter from the buyer.  If repairs are needed, the seller may be allowed to perform the repairs up to a dollar limitation or choose not to sell.  The buyer may require the seller to make repairs, negotiate a lower price, or back out.
The FHA and VA require that inspections be made before their approval letter from the buyer.  The FHA and VA require that inspections be made before their approval of residential loans to ensure that the buyer will not have to make significant repairs (wiring, roof and the like) during the first year of ownership.  The VA prohibits the buyer from being charged inspection fees, and the seller should be aware that they may have to make repairs before VA approval of the loan application.
An inspection clause is also known as a property condition addendum or inspection contingency.
What else can help me prepare to pass my real estate licensing exam on my first attempt?
Other tips to help you pass your real estate licensing exam on your first attempt:
How to Pass the Real Estate Exam
Real Estate Exam Math Made Easy
Also, check out our question of the day videos on our YouTube channel: