Protected Classes
What is a protected class, and what created this definition?
As a licensed real estate agent or broker, you are required to follow specific state and federal laws.  The term "protected class," comes from federal laws related to fair housing practices.  The earliest federal fair housing act was the Civil Rights Act of 1866, which prohibited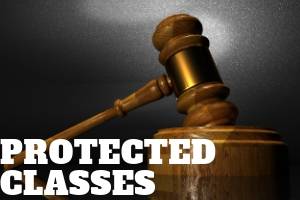 discrimination based upon race in any real estate transaction (rental or sale).
So, as you can see, protected classes are designated classes of individuals (such as race) as outlined by federal law.  These designated protected classes cannot be discriminated against in a real estate transaction.
Are there any other protected classes?
Yes, as time went on, there were additional federal laws which were passed that have added other protected classes.
Do I need to know all the designated protected classes for my exam?
Yes, you do.  The protected classes are as follows:
Race

Sex

Color

Religion

National origin

Physical or mental disability

Familial status
Is it possible there may be additional designated protected classes?
Yes, there is a possibility.  Some cities, states, counties, and government agencies have added additional protected classes, but you don't need to be concerned with them for your exam.
All right, most of the protected classes are pretty straightforward, but what is familial status?
Familial status is a protected class that is defined as an adult living with a child under age 18, a person who is pregnant and a person who has legal custody of a child or is in the process of securing legal custody.
Are there any exceptions to discrimination related to protected classes?
Yes, there are.  In regards to familial status, there is a specific exemption related to housing for the elderly.  This is how retirement communities can keep the protected class of adults with children out.  They are not violating the law but instead using an exception under the law.
Specifically, housing for the elderly is exempt from the familial status protected class protection if either of the following is true:
At least 80% of the units are occupied by at least one person age 55 or older.

All units are occupied, or intended to be occupied, by persons aged 62 or older.
Additionally, while more property is covered, there are four broad exemptions which will only apply if the two following conditions are met:
A real estate broker was not used, and

Discriminatory advertising was not used
If the two above requirements are met, here are the four broad exemptions:
Private clubs may restrict the rental or occupancy of their units to their members if not open to the public or run commercially.

Rentals in buildings with less than five units if the owner of the building occupies one of the units.

Religious organizations may restrict dwelling units they own or operate for other than commercial purposes to members of their religion if the organization does not otherwise discriminate in accepting its membership.

Sale or rental of a single-family home

if

owned by the seller, as long as the following conditions are met:
The seller was living in the house or was the most recent resident at the time of the sale.

The seller does not own more than three single-family properties at one time.
Who enforces the rules regarding the regulation of discrimination against protected classes?
Great question, and one you are likely to see on your exam.  Enforcement of Fair Housing Laws falls primarily with the Department of Housing and Urban Development (HUD).  If a protected class feels they have been discriminated against, they can file a complaint with HUD within one year after the act occurs.
What else can help me prepare to pass my real estate licensing exam on my first attempt?
Other tips to help you pass your real estate licensing exam on your first attempt:
How to Pass the Real Estate Exam
Real Estate Exam Math Made Easy
Also, check out our question of the day videos on our YouTube channel: