Zoning
What is zoning?
Zoning is a set of local regulations which implement a municipalities master or comprehensive plan by regulating land use and structures.  There are no federal zoning laws.  Have you ever wondered why you don't see residential homes mixed in with commercial structures?  Zoning prevents this from happening.
What allows municipalities to enforce these laws?
Great question!  This is something you need to know for the real estate licensing exam.  Local governments enact and enforce zoning laws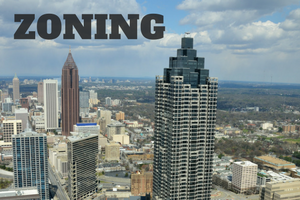 utilizing their police power.  Learn more about police power in our article about it here.  State enabling acts provide zoning powers to local governments.
Tell me more.
You got it.  First off, a municipality develops a master plan, which is also known as a comprehensive plan.  This plan provides the vision for the long-term physical development of the community.
Zoning ordinances control and regulate the use of land by enacting laws that regulate things such as how tall buildings can be built, the types of construction allowed (residential vs. commercial), lot sizes, and setbacks.
So, are there actual zones?
Yup, there sure are.  The land is divided into these zones, which are designated using classifications, such as "C" for commercial, and "R" for residential.  Usually, there are subcategories for each zone, and sometimes they even will have mixed-use zones.
Is anything used to separate different zones?
Yes, and they are called buffer zones.  They are something you see every day.  Large parks or playgrounds are often used to separate a commercially zoned area from a residentially zoned area.
What other related terms do I need to know for my real estate licensing exam?
Another great question.  You need to know the following related terms for your real estate licensing exam:
Nonconforming property:  Did you know zoning can change?  It sure can.  Well, what happens if a zone that was initially zoned residential is re-zoned commercial.  That is when you have a nonconforming property occur.  A nonconforming property is a property in an area which was originally zoned for one use, which is re-zoned for another.  Usually, in the case of a residential property, the owner is allowed to continue its use until it is sold or destroyed.  This is also sometimes referred to as nonconforming use.
Variance:  A variance to the zoning laws may be granted to a property owner in cases where strict enforcement of zoning may create an unnecessary hardship on the owner.  However, the variance must not be detrimental to the zoning.  Variances can be granted for height restrictions and setback lines.
Spot zoning:  A change of zoning for a particular spot or lot, and is generally not granted.  A good example would be a small zone being zoned for commercial so a convenience store could be built within a residentially zoned area.
What else can help me prepare to pass my real estate licensing exam on my first attempt?
Other tips to help you pass your real estate licensing exam on your first attempt:
How to Pass the Real Estate Exam
Real Estate Exam Math Made Easy
Also, check out our question of the day videos on our YouTube channel: