Special Assessments
What are special assessments?
Special assessments are a tax which is charged to fund local improvements.  The charge only applies to those properties which will benefit from the improvement.
What process creates a special assessment?
The process is pretty straightforward.  It is started by either a group of property owners or the local government.  Either entity will initiate the process by taking a proposal to whoever is in charge of levying assessments locally.  Then, a public notice is issued, followed by a hearing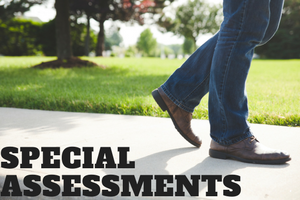 which is held for the public to hear about the proposed improvement.
If it is decided at the hearing to move forward, a local ordinance is passed, which describes the nature of the improvement.
What are some examples of the local improvements the special assessments fund?
The money collected through special assessments can fund the construction of sewers, streets, drainage, and irrigation.  Sidewalk, water, and sewer assessments are some typical examples.  Additionally, special assessments can be used to fund the development of parks and recreational facilities.
How is it determined how much the special assessment will be?
Generally, it is based upon the front-foot measurement of each lot.  The larger the front-foot measurement of a lot, the higher the assessment the lot owner will pay.  The front-foot measurement of a lot is each foot of a lot that abuts the street being improved.  Conversely, it could be allocated on a fractional basis, where the cost of an improvement is shared equally by those impacted.
How does a property owner who gets hit with a special assessment make payment?
It depends.  Special assessments are usually paid off in installments over many years.  However, the property owner does have the option to pay off the balance in full, which would reduce the amount of interest they may be charged over time.
Are special assessments considered to be a lien?
Yes, they are.  Special Assessments are always considered to be specific.  Moreover, they can be either voluntary or involuntary.  If homeowners initiated the process, then the special assessment lien would be regarded as voluntary.  If the government undertook the process, the lien would be considered involuntary.  You can read more about liens in our article here.
What else can help me prepare to pass my real estate licensing exam on my first attempt?
Other tips to help you pass your real estate licensing exam on your first attempt:
How to Pass the Real Estate Exam
Real Estate Exam Math Made Simple
Also, check out our question of the day videos on our YouTube channel: