Homeowners' Association Regulations
What are homeowners' association regulations?
Well, first off, you need to understand what a homeowners' association (HOA) is.  Not all properties have a homeowners' association.  Those that do will have homeowners' association regulations.  The homeowners' association is generally established as a non-profit and is a group of homeowners' which is organized under a declaration of restrictions or protective covenants for a subdivision, condominium or PUD.
What is the purpose of the homeowners' association?
They are organized to ensure the harmonious and orderly development of the property and to protect against future depreciation of values resulting from deterioration of the neighborhood.
Am I required to join a homeowners' association if the property I buy is part of a community that has one?
Yes, you sure are, and it will cost you.  Most HOA's have monthly dues that can run into the hundreds and possibly over a thousand dollars a month.  Forget that!  Seems like a waste of money to pay to have a group impose rules on what I can and can't do.  You may feel that way.  However, how would you feel if you moved into a community without an HOA and your neighbor parked their old beater car on bricks on their front lawn?  Having an HOA would protect you against this issue.  Alternatively, that same neighbor could paint their house neon green.  Not in a community with an HOA.
So, you can see there are positives and negatives.
Okay, say I buy a property in a community with an HOA, how do I know what the Homeowners' Association regulations are?
You now know you have to abide by them, just like everyone else in the community, but what are they?  The HOA will provide you with what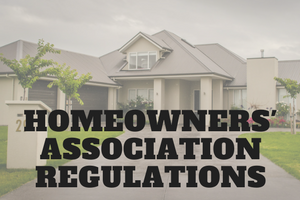 is usually a large three-ring binder of what they call their CC&Rs, which stands for covenants, conditions, and restrictions.
Do you want to keep an elephant in your backyard?  Sorry, that's not allowed.  You figure you will get a baby one, and no one will know.  Wrong.  Who is going to turn you into the HOA?  Your neighbor!
The HOA will have a board of directors, and sometimes those board members canvas the community for regulation violations.
So, say they figure out you have that baby elephant in your back-yard, what will they do?
First, they will send you a letter informing you of your violation of their regulations and ask you to remove it from your property.  If you do not remove it, they will then begin to assess you a fine for every day the elephant is on your property.
However, I am paying to be a member of this association, where does my money go?
Keep in mind the association also is responsible for the maintenance and any liability related to any parks, pools, gyms or community centers the community may have.  In part, that is where your money goes.  They also purchase an insurance policy to cover damage to the common property and any liability related to any injuries someone may suffer while using the common areas.
What else can help me prepare to pass my real estate licensing exam on my first attempt?
Other tips to help you pass your real estate licensing exam on your first attempt:
How to Pass the Real Estate Exam
Real Estate Exam Math Made Easy
Also, check out our question of the day videos on our YouTube channel: