Free Look
What is a free look in life insurance?
The free look is a period of time during which the owner of the policy can return the policy and receive a refund of ALL premiums paid, with no penalty.  The free look period is essentially the refund provision for a life insurance policy.  It is required by law but usually only lasts for a short period of time, beginning after the initial delivery of the policy.  The free look is sometimes referred to as the right to return period.
As with most provisions required by law, the free look provision protects the policyholder.
How long is the free look period in life insurance?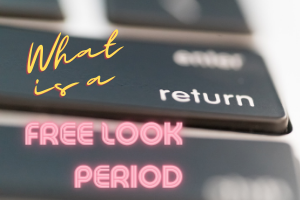 Well, that depends.  Since insurance is regulated by state law, it can be different from state to state. Most states require the minimum free look to be printed on the first page of the policy to inform the buyer of how long they have to return the policy and obtain a full refund. However, it is usually required to be a minimum of 10 days, but depending on the policy can be required to be a minimum of 30 days from the initial delivery of the policy.
When does the free look period start?
It starts on the delivery date if the policy is delivered in person by the producer/agent who sold it to the policyholder.  However, if the policy is mailed to the policy owner, it usually begins the date it is mailed.  This is called constructive delivery.  It is vital for the insurance exam that you know the free look will never begin until the applicant pays the first premium.
How would a policy owner exercise the free look provision?
The policy owner can deliver or mail the policy back to the agent or insurer to exercise the free look.  Of course, the policy owner must do so during the free look period.  Once exercised, the insurer will void the policy and will issue a full refund.  No reason needs to be given to the insurer (insurance company) by the policy owner when sending the policy back.
What types of policies are required by law to have a free look?
We have been talking mostly about life insurance so far, but annuities and most types of health insurance policies are also required to include a free look.  Although the minimum time period required by law may differ from type of policy to type of policy, the underlying concept of the free look is the same.
What else can help me prepare to pass my insurance licensing exam on my first attempt?
If you need any help preparing to pass an insurance licensing exam, we have some excellent courses which are primarily video-based.  Check out our available courses now:
Insurance Licensing Exam Prep Video Training Courses
Other tips to help you pass your insurance licensing exam on your first attempt:
Insurance Exam Test Taking Tips
Also, check out our definition and question of the day videos on our YouTube channel: